2. Bad time to be in Buenos Aires (Argentina)
Evidently now is a bad time to be in Buenos Aires. For one, it's peak summer and unlike Sydney there's no beach to escape the heat to. Most of the locals have escaped to the beaches in the South and the very rich are off to the resorts in nearby Punta del Este, Uruguay.
BA is well known as a mega party town, we're talking clubs with 3000 or 4000 people, that don't even start until 5am. However, the nightclub fire and consequent finger-pointing on New Year's Eve in which 200 people perished has meant all the clubs here have shut down for safety inspections.
I've been lucky with the weather, yesterday and today have been fine but my friends at the hostel said that it's been unbearable recently. Too hot to think, let alone move in.
So why am I here in BA? Well, the plan was to enrol at the University of BA to study Spanish, get to know the city, and then start job-hunting (English teaching) next month. So today I sat the entry test at the University to determine which level Spanish class I should be put in. The test was muy dificil (very difficult), but I got put into a Level 2 class. The class started today but I skipped the first one as having just taken the test (and missed a lot of sleep lately) I was too tired and in need of a siesta. So I'll go along tomorrow morning and see how it goes. The problem is I think I'll only be at Level 1.5. So the Level 2 class will probably be too hard but the Level 1 class too easy. If so then I might have to explore other options - either private lessons or lessons at a private institute - both options are more expensive though, twice the price of the University course. We'll see what happens.
It's nice being in a country where the local language is everywhere. In the tourist areas of other countries I've visited (SE Asia) there's been no need to learn the local language since as soon as the locals see a white face they either speak to you in English or don't speak to you at all. Here either they don't speak English or don't want to, so everything needs to be done in Spanish. The other backpackers here ALL speak a bit of Spanish, or want to, which is another difference. Try finding a backpacker on Khao Sahn Rd who can speak more than a handful of Thai - not likely.
I had lunch today in a random cafe out of the way. Lunch is the main meal of the day (
edit: no it's not, dinner is
), I ordered steak and mash. They like their meat here so I was given two T-bone steaks to chew through. The television in the corner was playing some Goldie Hawn & Kurt Russell movie dubbed into Spanish. A local guy came in and greeted an old guy with a kiss on the cheek. No handshake, just a kiss on the cheek. Another guy came in and did the same, greeted the same bunch of men with kisses all around. I guess that's how they do it here - no handshakes, just kisses. Interesting.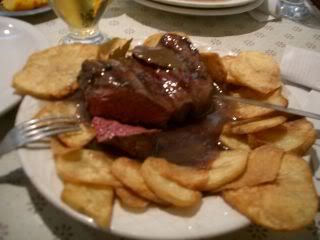 The steak at Desnivel in San Telmo. The best in Argentina so far