6. My first party (B.A, Argentina)
I went to my first BA party last night. As I said before, the club scene here has been temporarily shut down because of the December 30 nightclub fire which killed 200 people. Last night there was a free party in a park next to the planetarium in the Palermo district.
A bunch of us left our hostel at about 1 or 2am (we hadn't gotten back from dinner until midnight anyway) and caught a couple of cabs to the park.
The party wasn't very good. All I've heard about prior to this trip is about BA's amazing party scene and its amazing women. I haven't seen either yet. A couple of us returned to our hostel at about 5.30am. The others came in later at about half past seven.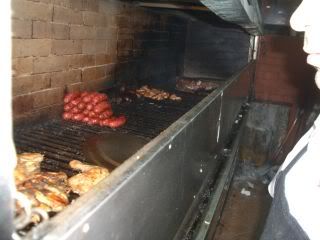 Random pic: the asado at Desnivel in San Telmo