7. Moved hostels (B.A, Argentina)
Today I moved to a new hostel -
La Casa de Etty
(Etty's House). It's more of a boarding house than a hostel, she has 3 rooms with 6 beds. It's cheap, but the reason I took it is there's a few South American guys staying there (Ecuadorian, Columbian, Argentine) so hopefully I'll get to practice my Spanish more.
Well, that was the plan, but I only met everyone living there after my Spanish class this afternoon. There's also a Dutch and Swiss guy there, and whaddya know they speak good English. So hopefully I won't get sucked into speaking English but it looks like it might be happening again. Perhaps I should have taken the other apartment with the two Argentines.
On Sunday night I caught up with Juan, an Argentinian friend I first met in Laos. He lives in BA and he took me around to his house for an asado (BBQ) on his roof with some of his friends. The night was great, as was the food, but it was all a bit too much for me and I ended up coma'd in a semi-foetal position on his roof until about 6 in the morning.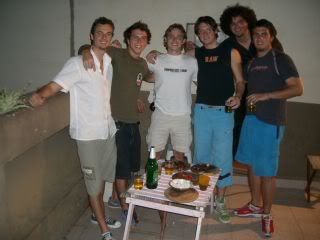 Me Nicholas Nacho Yvan Juan Pablo at Juan's
Tonight I went to a Tenedor Libre (all you can eat) restaurant, for only $13 pesos (NZ$6.50). The usual buffet/smorgasboard deal which you'd get at any wedding anywhere. It was nothing special, as I wasn't too hungry so I would have been better off going to a normal restaurant.