13. In Brazil (Barra da Lagoa, Florianópolis, Brazil)

Map stolen from www.lonelyplanet.com
We made it to Brazil after going out all night Friday to celebrate the end of our course (no sleep), and catching the bus at 7.30 Sat morning still in the clothes from the previous night, 27 hours on the bus, arrived at 10am this morning (Sunday). Managed to get a few hours sleep on the bus and a couple on the beach here this afternoon. There's six of us so we're renting a house for 4 days or so...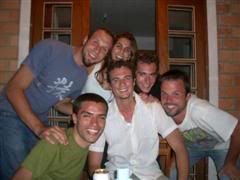 Nik Roger Shireen Me Julien Thad at our house, looking sunburnt

The beach here is great, similar temperature and amount of people as the beaches in Sydney around Christmas - 32 deg today.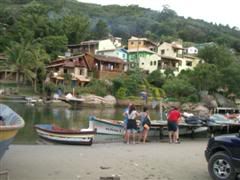 Our house across the river is there somewhere

Our house is in a nice location, the only catch is we have to cross a tidal river to get to it by punting across in these row-boats with bamboo poles. Fortunately I've got the hang of it pretty quickly so I'm most often our designated driver... the other guys frequently get caught in the current and have to be towed back by our bemused local neighbours - especially at night after a few beers!