14. Carnaval! (Florianópolis, Brazil)
OK, for those that don't know, Carnaval is an annual 2 week long party in Brazil, characterised by hundreds or thousands of dancing girls and guys in crazy costumes and float parades. But the general idea is to get drunk and watch from the street and dance along with the music. It's supposedly one of the best parties on the planet. The best Carnavals are in Rio de Janiero and Salvador, but we couldn't get there - too far, and accomodation is booked out months in advance (and expensive) but that doesn't matter, so long as you're in Brazil during Carnaval week (preferably at the beach) you're bound to find a party.
And so it was at dinner during our second night in Barra da Lagoa, a float with singers and dancers passed our restaurant, with a few hundred people singing and dancing and drinking alongside it. The party then transferred to the beach where they had a big screen and loads of teenagers dancing. The same thing happened the next few nights, but the downer was it always finished at about 3am, much to early for us oldies on Buenos Aires time.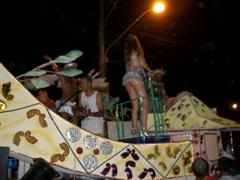 The attempt at a Carnaval float in Barra da Lagoa
Perhaps because of the early finishes all of us agreed we hadn't felt like we'd had a proper Carnaval. So for the final Carnaval night we headed to the capital of the island, Florianópolis, to try find some real Carnaval action. I popped the only 2 ESP party pills I'd bought over from NZ (legal remember, see Post #1) so I was buzzing, but I peaked a bit too early, during our dinner. By the time we'd ridden the bus for an hour into Florianópolis it had almost worn off.
We quickly found the main Carnaval arena as fortunately it was opposite the main bus terminal, in a cool colonial style stadium.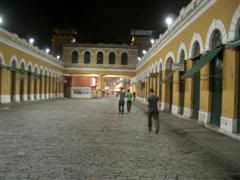 Us entering Carnaval

Inside were a number of stages with bands playing, people watching, and wannabe gangsters strutting with shirts off, bling jewellery, and jailhouse or homemade tattoos. However, Thad pointed out that since we are in Brazil chances are they aren't wannabe gangsters but the real deal... the local guys were mental, we repeatedly saw guys just grab the ass of a passing girl, or just grab them and bearhug them in an attempt to kiss them - while the girl pushed and fought them off. Which would make it hard for us to talk to any girls when they're justifiably so defensive. The talking was pretty much impossible anyway -
they speak Portuguese here not Spanish
- so I'd be trying my pidgin Spanish which they might or might not understand, and they'd answer in Portuguese of which I'd understand maybe 10%. So the only hope was to find girls who could speak Spanish or English.
Anyhoo, back to Carnaval. Eventually we found our way to the back door which gave us access to where the dancers were warming up and getting drunk in preparation for their march through the stadium. So we joined them, took a few photos, and bought a few Johnnie Walker and Red Bulls off the passing street waiters - which were mixed 90% whisky and 10% Red Bull!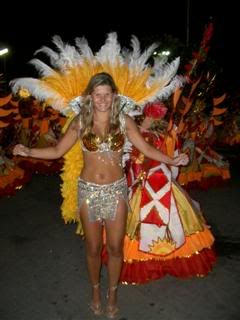 One of the hundreds of dancing girls backstage.
After about an hour the Carnaval started moving towards the main stadium. We watched it leave but then one of the locals motioned for us to follow, so we danced along behind it.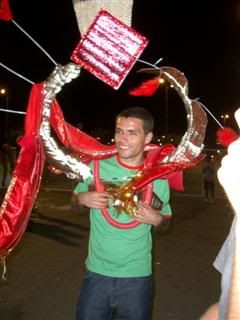 Roger found a costume in the street
The parade made slow progress and we kind of didn't know how far we'd get, to our surprise we were dragged along all the way, through the main stadium! So we were actually in the Carnaval and we didn't even have to dress up all camp or learn the dance steps!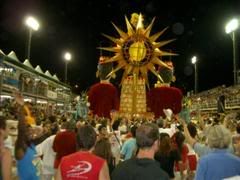 The back of the float as we went through the main stadium

And so that was about it - the final float went through the main stadium and then the crowd dispersed. Yet again we couldn't find a party or club to go to afterwards so we had to taxi back across the island to our house. But it was still a great experience, and I think we felt like we'd gotten a proper taste of Carnaval in Brazil.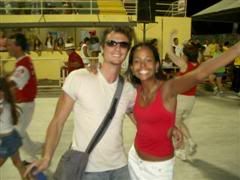 Me and a local in the stadium. I was the only one in the crowd wearing sunglasses