15. Chillin' at the beach (Barra da Lagoa, Florianópolis, Brazil)
We spent the next few days chillin' at the beach, trying to meet girls and trying to find a party. Most nights the guys would end up on our balcony drinking
caipiñaras
until sunrise, I'd usually be the first to crash but also the first to get up.
Not surprisingly, the island is full of tourists, but surprisingly there are very few gringos. Most of the tourists are Brazilians from other parts of Brazil, as well as a lot of Argentines and Chileans. The beach attire is great, it leaves little to the imagination but surprisingly the girls are reluctant to go topless, unlike in Sydney.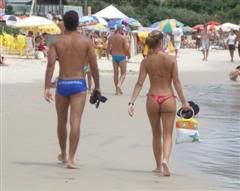 Brazilian beach attire
The beaches have a bit of surf, but except for the last day it looked too small and messy to bother with for me. You can buy a lot of food or ice cream etc on the beach here which is great and the guys selling don't hassle you at all, unlike in say Indonesia where the guy will sit down next to you and show you his entire inventory of necklaces or tattoos or t-shirts before leaving.
Paddle is big on the beach - it's like padder tennis which we used to play at primary school. In Australia they call the game Brazilian bats which is a fitting name given the popularity of it on the beaches here.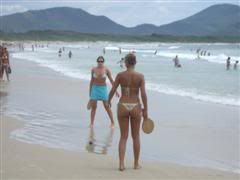 Girls playing paddle
The island is beautiful, still quite undeveloped with a lot of forested areas. One day we caught a bus to nearby
Praia Mole
(Mo-le Beach) which was a bit nicer, with slightly better surf.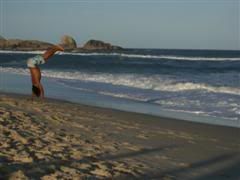 Capoiñera

practice at sunset on Praia Mole

We eventually found a party at one of the clubs called Latitute, which the locals girls pronounced Lachichudee in their Brazilian accents.
The club was a bit of a let down, but we did meet some English speaking local girls.
The drink system they had was interesting - they gave you a card as you went in, and whenever you bought a drink you wouldn't pay for it, but the barman would cross the corresponding box on your drinks card, and you finally paid for all your drinks as you left the joint. And if you ever lost your card they'd fine you a fortune! We had to pay 30 reals just to enter the place though, which is like NZ$15 - damn expensive! Especially when dinner would normally cost 15 or 20 reals.
The same card system would often be in cheap restaurants - whatever food or drink you bought would be ticked off your card and you paid the bill as you left. The other option for cheap eats is the buffet restuarants, which you paid for by the kilo - I think about 11 reals (NZ$5) per kg. So you'd go in, load up your plate, they'd weigh it, you'd pay, and then you'd eat. A bit fairer than all you can eat... just stay away from the rice, it's heavy.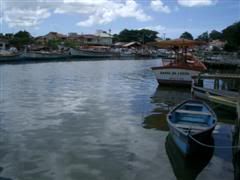 The view from our jetty across the tidal river
Finally it was time to go - 2 of the group headed north, one back to BA, and me and the two French guys hung around an extra night before departing together for Iguazu Falls - six days at the beach in total.


On our final night in Brazil we went out to a

rodizio

restaurant, which was again a buffet for your side orders, but for the meat the waiters would roam from table to table carrying a spit of meat from which he'd carve you off a slice onto your plate. The meat was amazing, I'm tempted to say even better than Argentina's - a lot more flavoursome anyway, and about 8 different cuts. Argentina's meat, while incredible, starts to taste the same after about your 10th steak in 5 days. We topped it off with a great bottle of local wine, an expensive meal at 35 reals (NZ$20) a head but one to remember.