20. Tango time (B.A, Argentina)
The 7th annual
Buenos Aires Tango Festival
is on right now for the next week so I've been getting into it a little, well I've had a couple of free lessons anyway. Buenos Aires is the home of tango, but it's kind of for the oldies these days. No, plenty of young people are into it but the average young local you'd meet here has never done it in their life. It's pretty hard dance, but I'd like to get the basics down anyway.
My phone's started ringing on the job front, yesterday one of the institutes here (Sol Vasquez) offered me a one-on-one conversation class for today, so I spent last night preparing for it - only for it to be cancelled today. I think I still get paid because the cancellation was late. And then today another institute, Brookyln Bridge, invited me to their orientation for new teachers tomorrow afternoon. It's a chance to press the flesh with the directors anyway.
I took two Spanish lessons this week but other than that the Spanish has been on hold for the last 3 weeks while I was in Brazil and looking for work. I want to get back into it but I just haven't had time, and I don't think I will have much time once I start working either, unfortunately. I'm still living in the hostel but looking for somewhere else.
Last Sunday I took Juan and a group of my friends from my hostel and university to one of the public pools here, it was a pretty cool afternoon - about 1000 people laying on the grass around the pool, a few swimming, a DJ playing and you could buy beers from the cafeteria. Then they started an aerobics class in the pool which was quite spectacular, especially when the hundred people started splashing simultaneously, or later when they made a big whirlpool. I jumped in for that one!

Aerobics in the pool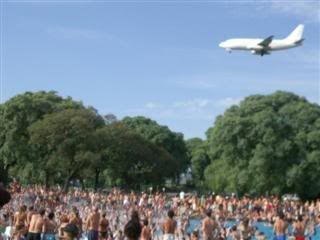 A plane coming in for landing overhead
Later Juan and I went and did a Wayne's World, and sat under the end of the runway of the airport which was next door to the pool, and freaked out as the planes came in for landing only about 15 metres above our heads. I've always wanted to do that!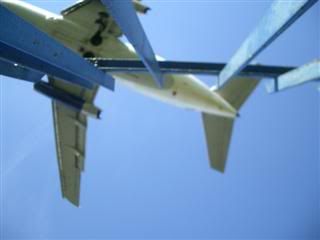 Watch yer head